Art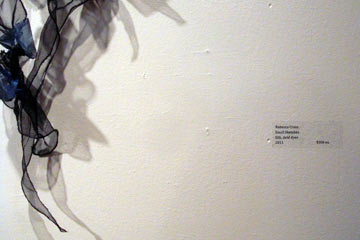 This beautiful fabric sculpture by Rebecca Cross was just one of many pieces of art that Joanne and I enjoyed during today's "Third Friday" event at the 78th Street Studios.
At this point, though, I have to admit I was suffering from art overload. I could hardly stand the thought of going into yet another of the many studios in the artists' complex that's grown up in the buildings left when American Greetings moved to the 'burbs.
Painful
We were there mostly to see photographs by a former Tri-C student, Angelo Merendino.
His show, called The Battle We Didn't Choose: My Wife's Fight with Breast Cancer, was a painfully beautiful portrait of a family struggling against a deadly disease.
The show was also a fund-raiser to help the couple pay their medical bills.
I was happy to see a big glass collection bowl nearly filled with bills and checks.
After this gallery everything else seemed shockingly frivolous.
[Updated with video, Nov. 27, 2011]
Top of page |