Lunch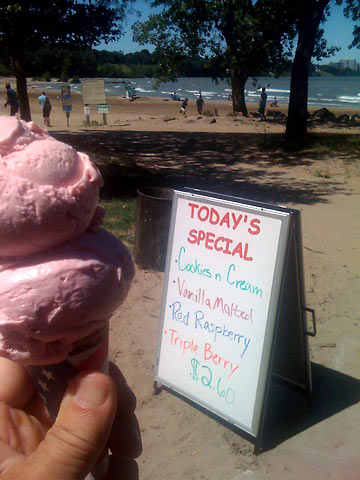 It was a sunny, breezy and altogether fabulous day for a walk. To Edgewater Park. For lunch at the Honey Hut Ice Cream store that opened this summer.
Since we walked about three miles round trip we may have burned off most of the 300-400 calories in the ice cream cone, which makes me feel slightly less guilty.
I have to say that I wasn't as enthused about the ice cream as many of my friends are. Maybe it was my choice of flavors: the Red Raspberry tasted like real raspberries, but my favorite flavors tend to include chocolate, coconut, and nuts, not berries.
Then too, we've become spoiled on the West Side with excellent homemade ice cream at Sweet Moses and the old Dari-Delite on Bridge Avenue now reincarnated as Ohio City Ice Cream Company.
Still, I'm happy to have Honey Hut in the 'hood, and plan to try again with a more promising flavor.
Top of page |