No place for people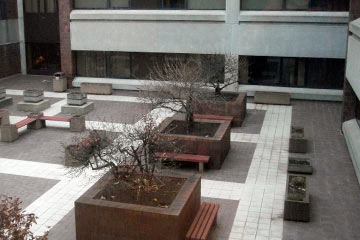 The interior courtyard of Southwest General Hospital is clearly a product of the 1970s. Its Brutalist architectural style, all hard edges and hard surfaces were the latest thing then.
This particular example of the joyless, barren fashion that strangely followed the peace & love 60s is in the suburbs, but downtown Cleveland has many more.
Much of the Cleveland State campus looks similar, or did until recently when the college began tearing down or modifying buildings from this era.
Concrete and rectangles are "out", replaced by brick, glass and steel, often in swoopy shapes. An improvement, for sure, but to my eye still too much style and too little substance.
Top of page |