Happy?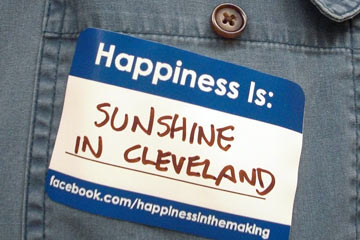 About a month ago the Media Design class started a project whose goal was to start a world-wide conversation about what makes you happy.
Today we wrapped things up with an event in Tri-C's Galleria where we showed our videos, asked people to tell us what made them happy, and handed out stickers to everyone who replied.
It was a fun ending for a project that was at times very challenging. We divided into three workgroups—web/social media, video, and survey/event—and really only came together as a class at the beginning and end. But there was a lot of energy on this final day, and seeing students all over the campus wearing our "Happiness" stickers made the effort seem worthwhile.
Videos & more
Watch the project's infomercial: Smirk Spray
What makes Tri-C students happy? Happiness In The Making, Vol. 1
"Like" us on Facebook: Happiness In The Making
Top of page |