Too-cute HTML?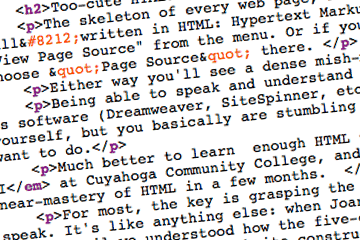 The skeleton of every web page, including this one, is a document—a letter, if you will—written in HTML: Hypertext Markup Language.
See for yourself: right-click on this page and choose "View Page Source" from the menu. Or if you prefer, go to "View" on the page's top menu bar and choose "Page Source" there.
Either way you'll see a dense mish-mash of words and symbols. Welcome to the world of HTML.
Being able to speak and understand this particular language is a key to creating websites. Sure, there is software (Dreamweaver, SiteSpinner, etc.) that lets you cobble together a website without creating any HTML yourself, but you basically are stumbling around blind, at the mercy of the software understanding what you want to do.
Much better to learn enough HTML to do the basics on your own. We teach that in Web Publishing I at Cuyahoga Community College, and I've helped hundreds of students move from total ignorance to near-mastery of HTML in a few months.
Rules of the game
For most, the key is grasping the overall structure of HTML—learning the rules of the game, so to speak. It's like anything else: when Joanne and I played Texas Hold 'Em with our grandson Xavier the other night, until we understood how the five-card limit worked we couldn't hope to win. Understanding the rules of HTML will let you win at website construction.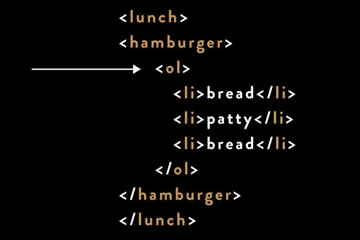 A couple of irreverent young web designers have created Don't Fear The Internet to help you get started. Their goal is to help you "feel empowered rather than crippled by the internet."
I like what they're trying to do, but fear that they've gone over the edge in cuteness with the video "HTML: Hamburger Text Markup Language."
But that's just me. I know HTML already, so am not who this video was made for. You're probably a better judge of its value. It's only two minutes long—take a look and tell me if it helps you grasp how HTML works, or is too cute to be helpful? Click on

Comments below to add yours.
Top of page |