Big finish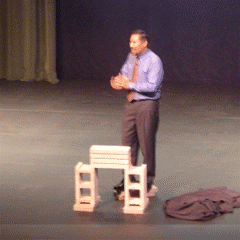 Every semester at Tri-C starts with three mind-numbing days of faculty meetings. The first day's keynote speaker usually has some shtick they do, like the college president who played guitar and sang, and the woman with the flamboyant hat who warned us that at the end of her talk we might wonder why they invited her (we did).
This year we heard a pretty entertaining guy talk about how to understand and respond to the different learning styles of students. He ended his talk by playing into our Oriental stereotypes and karate-chopping a stack of concrete blocks.
The act was memorable, but if it was supposed to relate to his speech in some way I missed the connection.
Top of page |