Music at Mike's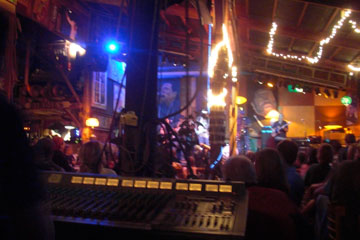 Sunday night we enjoyed five hours of music at one of the best venues in the Cleveland area. One that only die-hard blues and jazz fans know about: Mike's Barn.
Described as "a musician's clubhouse," it really is an old barn. A shed-like addition is filled with long tables and a wildly mismatched collection of chairs.
Get there early enough and you can claim a prime spot on a sofa or overstuffed chair right in front of the stage.
The feeling, even during the jam-packed Broad Side of the Barn concert that we went to, is like being in someone's (very large) living room, with a (very large) group of friends.
If you love music but hate being constantly hounded by servers trying to get you another drink, not to worry. Mike's is strictly BYOB. If you're hungry there's a charcoal grill outside and you're invited to cook your own food, or you can buy inexpensive sandwiches and snacks.
Mike's Barn is obviously a huge labor of love put together by Mike Yates, the owner, a core of hard-working volunteers, and some of the best musicians in the Cleveland area. You owe it to yourself to visit at least once before they wrap up the season in October.
Related article
It Doesn't Get Much Better Than This - Sept. 2, 2007
Top of page |