Bees @ CMA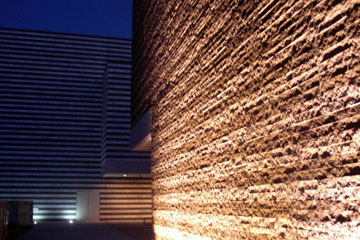 The movie at the Cleveland Museum of Art tonight was the sobering yet uplifting Queen of the Sun: What Are The Bees Telling Us?
They're telling us: you're killing us by destroying our way of life.
Did you know that bees from all over the U.S. are put on semi-trailers and trucked to California once a year to pollinate the almond groves? I sure didn't.
Think about what that does to the bees. Some are inevitably killed while being loaded and unloaded by forklifts. The survivors are disoriented and in a state of shock when they arrive at a place thousands of miles from home. Then they "work" in the almond groves for a short time before being loaded onto the truck again and returned home.
This is just one of the ways commercial agriculture has attacked bees. There are many other problems.
At the same time, the film introduces us to beekeepers from France and Germany to the Bronx who love their amazing charges. In locations around the world people are trying to establish bee sanctuaries. There's a back-to-the-land, hippie vibe to most of the people, who seem to feel a real connection to and admiration for their bees.
Good movie. Always a treat to go to the Museum, and walking back to our car we got a dramatic view of the new addition (at left in photo above) attached to the earlier Breuer wing (at right).
Top of page |