Majestic combination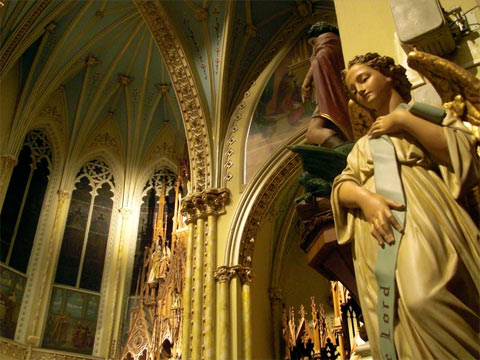 I rarely see the inside of a Catholic church anymore, but even as a non-believer I have to say this one is majestic.
We went to hear CityMusic Cleveland, a chamber orchestra that performs classical music for free in various churches around the city.
On this night the majesty of the music (Beethoven, Ligeti, and Dvorak) matched the majesty of the surroundings, St. Stanislaus Church on East 65th St.
In fact it was one of the best concerts I've ever attended, and that includes quite a few Cleveland Orchestra concerts through the years as well as groups in other cities in the U.S. and beyond.
CityMusic is made up of mostly young performers, many of them I suspect being student or recent graduates of the city's several excellent music programs. They played with energy, skill and enthusiasm, and the audience loved them.
CityMusic will be back in December (7th-11th) with a new program. Clevelanders, put this on your calendar. You won't regret it. Oh, and did I mention that it's all free?
Top of page |