JULY 22, 2009
Shop local, buy local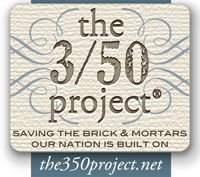 After writing about the value of local small businesses like Wlady's Shoe Repair yesterday, it was interesting to read in today's Plain Dealer about a grass-roots initiative to save "the modest-in-scale, mom-and-pop-type establishments that once dominated every community in the country."
The 3/50 Project explains the economics this way:
For every $100 spent in locally owned independent stores, $68 returns to the community through taxes, payroll and other expenditures. If you spend that in a national chain, only $43 stays in your community. Spend it online, and nothing comes home.
The 3/50 Project has a simple plan to save local independent businesses: think about where you shop, and decide that each month you will spend at least $50 (total) at 3 local businesses. That's it. Not $50 each, but $50 total, spread among 3 businesses. How hard is that?
The 3/50 website has details on how much money this will put into local economies, as well as a clear explanation of what an "independent" business is. Point is, many local businesses are struggling to survive, and can't afford the advertising that national brand bombard us with. They need help from all of us who value having stores and shops nearby run by people who know and care about their products and services. Put your money where your heart is.
How local are you already?
Try making a list of where you shop now, and look for opportunities to shift to local independents. Here's a list of places I shop in a typical month:
Most fruits and veggies, cheese, bread/bagels, meat

West Side Market
Run by the City of Cleveland and the Market Merchant's Association. I think that most vendors are local, although food may be from anywhere.


Most canned/packaged foods, some milk, cheese, bread, etc.

Dave's Supermarket on Bridge Avenue
Dave's is a locally-owned grocery chain that has stores throughout the city (which has been abandoned by larger chains).

Locally-grown fruits, veggies, meats, cheese

North Union Farmers' Market at Shaker Square, Tremont, Burke Lakefront Airport
-OR-
Fresh Fork Market in Tremont
-OR-
CityFresh/FreshStop at Urban Community School
Each of these is a locally run buying club or farmer's market.

Beer

Great Lakes Brewing Company
Fantastic beer brewed just a few blocks away. The company is also very active in sustainable building/living and a great supporter of neighborhood organizations.

Clothing, small appliances, housewares

Target at Steelyard Commons
The closest location of this large national chain, 3.3 miles from my house

Lumber, paint, hardware

Home Depot at Steelyard Commons
Similar to Target, above. -OR-
Cleveland Lumber, 9410 Madison Avenue
Local lumber yard that stocks fewer items than Home Depot but is very helpful with ordering nearly anything you need.

Restaurant, bars

Parkview Night Club
Great local dive bar on W. 58th north of Detroit. Good for drinks, food, music and the occasional football/basketball game on TV. Norm, the owner, is in the same yoga group as Joanne and many of our friends.
Momocho, Johnny Mango
Just down the street on Bridge Avenue, both are good for drinks (especially outside in warm weather) and the occasional meal.

Coffeeshop

Gypsy Beans, West 65th and Detroit
Good coffee, great location for getting together and/or just hanging out.

Prescriptions

Giant Eagle, Brookpark Road.
I started going here because it's where I picked up Mom's medicine, but since hers is now delivered I should move mine closer to home.

Now what?
I'm doing quite a bit of shopping locally, but need to make more of an effort to go Cleveland Lumber instead of Home Depot. Clothing, housewares, etc. will be harder. Not many independent stores in town. I can shift my prescription to a store closer to home, but it will still be a large chain like Rite Aid. There are only a few independent drug stores in Cleveland, and none nearby.
My biggest problem is buying books: I'm a big fan of Amazon.com. Price, service, variety, customer reviews all keep me coming back. I should try to buy at least a few books locally, though. It's going to be a hard habit to break.
Looking over the list, another benefit that I noticed is that I can walk to most of these places, avoiding a bit of energy use/pollution from the car.
Let me know your favorite local independents. Click on "Comments" below to add your list.
Top | |