MAY 18, 2009
Monday afternoon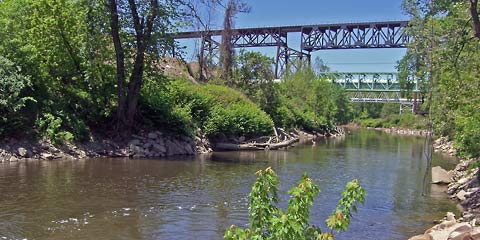 Lunch today was a turkey & lettuce sandwich at one of my favorite Cleveland spots, the Ohio & Erie Canal Metropark.
I found a sunny spot to eat, at a bend in the Cuyahoga with a good view of the railroad bridge and others beyond.
This park that combines nature and industry seems so uniquely Cleveland that just walking down the hill toward the canal made me smile. Peaceful coexistence is one of those lofty goals that sometimes seems impossible to achieve, but here man and nature get along marvelously.
To see more of the park take a look at these pictures from last June.
Garden supplies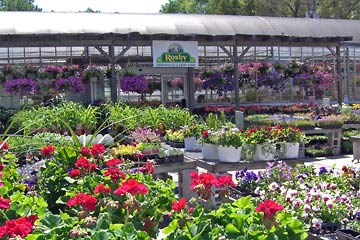 Last year and years before we'd drive to Foote's Valley Farms to buy seedlings for the garden. Sadly, this year Foote's is gone, all but a lonely sign that says "See you in Spring".
I want to do my part to keep one of the few remaining family-owned greenhouses in business, so went to Rosby's on Schaaf Road, not far from Foote's.
For $16.75 a flat I mixed and matched marigolds, impatiens, tomatoes, eggplants, peppers, onions and several kinds of herbs. I threw in four bags of manure/compost to use as part of the new soil mixture I'm trying this year.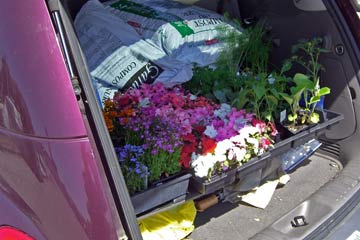 All of this made the back of my car look a lot better than when I had it filled with cardboard going to the recycling dumpster.
Tomorrow I'll be planting.
Top | |