MAY 9, 2009
Dinner party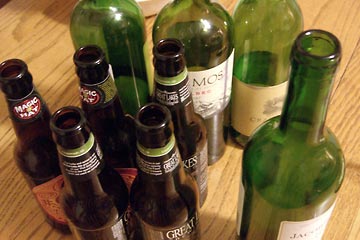 We unveiled our new-look kitchen today with a party for friends who helped us with our recent Grand Canyon trip, either by loaning us gear or by taking care of things while we were gone.
The wine & beer flowed throughout, starting with Great Lakes Brewing new Grassroots Ale. I really enjoy GLB's Eliot Ness and Dortmunder Gold, but I'm not planning to add this new offering to my regular shopping list.
It's kind of intriguing that the beer is flavored with herbs and spices grown at the GLB farm, but the resulting flavor isn't one I like. It's mild and sort of flowery-spicy. On a hot summer day it might hit the spot in the way that a cold Corona does, but that's about it.
The dinner and party, on the other hand, didn't disappoint. I grilled some big Portobello mushrooms and chicken sausage, then sauteed them with olive oil, lots of garlic and a couple splashes of red wine. We served it over the fresh tomato-basil linguini I bought yesterday. Very tasty, although somehow I forgot the add the onions & scallions I'd sliced earlier. So tomorrow Joanne & I will have a variation on the same theme, with lots of onions and scallions.
Top | |