JULY 2, 2009
Young artists, father & son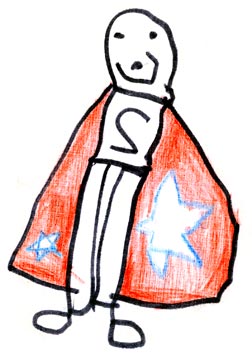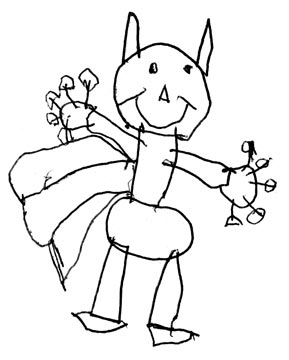 It's funny what you find when you're rearranging furniture and sorting through drawers of junk that has accumulated for years. We found a drawing of Superman (left) done by our son Danny when he was 4 or 5, and a similar one of Batman done by Danny's son Xavier when he was 4 or 5.
Both of the superheroes have big smiles and are a bit off-kilter to the right, but those are their only similarities. Superman is a minimalist drawing—arms and ears weren't included. Batman has arms, ears, hands and ten detailed fingers.
As I look at them I'm tempted to try to read all sorts of personality traits into these kids' drawings, but you know what, I'm gonna stop and just enjoy them for what they are.
Top | |