JULY 5, 2009
First harvest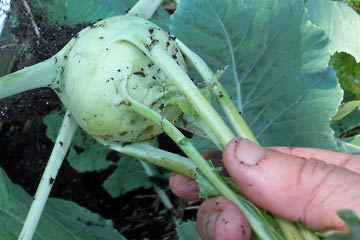 Here it is, with authentic dirt under my fingernails: kohlrabi from the raised bed.
To be honest, this isn't the first of these guys I've pulled out—last Tuesday I made several of them into a vegetable slaw. Grated with carrots and seasoned with balsamic vinegar, olive oil (and I hate to admit, Marzetti's Slaw Dressing) they made a nice alternative to cole slaw.
Today I peeled and ate this one the way my dad used to do, sort of like an apple. I got my grandson Xavier to try a bite and he pronounced it OK, with a taste like broccoli.
Curious about its nutritional value, I googled "kohlrabi nutrition" and found more than I expected at Nutritiondata.com, a site I'll be using more now that I've found it.
Top | |