JUNE 12, 2009
How does your garden grow?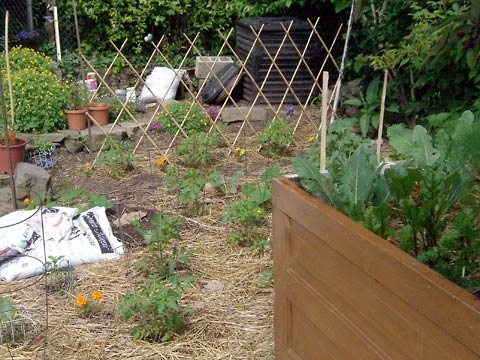 It's been less than two months since my first garden planting—peas that never sprouted—and things are looking pretty good.
In the raised bed at right everything is thriving except the cilantro and onions. But the beets, kohlrabi, dill, parsley, fennel and basil are doing great.
In the ground the tomatoes and zucchini are doing well, while some peppers look good and others are being chewed up by some insect or critter.
In the straw bales everything looks a bit anemic compared to similar plants in other spots. Maybe I should have put more soil in? I've got some organic fertilizer that I'll sprinkle around the plants tomorrow.
More than you ever wanted to know about my garden
Plant peas; garden timeline—April 25, 2009
Garden potential—April 26, 2009
Raised bed garden experiment—May 13, 2009
Garden visitors—May 14, 2009
Planting the raised bed—May 20, 2009
More planting—May 22, 2009
Finished planting, mostly—May 25, 2009

Top | |