JUNE 23, 2009
Tuesday

Today's sunrise was much redder than yesterday, with clouds and a very calm lake.
Gin & tonic rock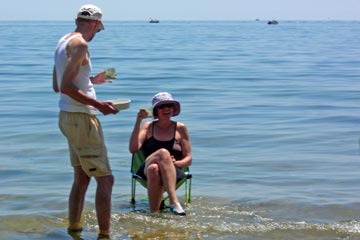 Higher water this year has kept our favorite "Gin & Tonic Rock" out of sight, but Joanne waded out and found it.
It's big enough to hold only one chair, but makes a great spot to sip your favorite beverage. David and Joanne are enjoying the drinks that give the rock its name.
Top | |