JUNE 7, 2009
Screen doors and screams in the night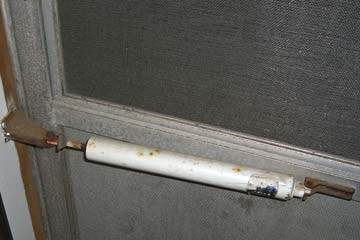 Our three houses are not more than twenty feet apart. I can tell who's using their back door by the sounds they make. Ours has a little metallic screech from the closing mechanism. Wally & Jeannie's wooden door makes a loud thunk when it slams. Jimmy's is similar, with a little rattle caused by a metal bar across it. I can be upstairs in my bedroom or sitting on the back deck and have a sense of who's around just by listening.
A couple of years ago Joanne was at a conference for a week and both of our neighbors were out of town. Each morning was so quiet that it reminded me of how alone I was. No doors were opening and closing. I didn't like the feeling. I much prefer hearing my neighbors around me.
I've spent my whole life in the city, as a kid on Cleveland's East Side around 93rd and Union, and most of my adult life on West 32nd Street. I'm a city person. I love the activity and the variety and the way you can walk a few blocks and find friends and necessities and little luxuries, like the peanut butter, banana and chocolate crepe I had this morning at Le Petit Triangle on Fulton at Bridge.
This has been a great weekend in the city. Yesterday I walked to the West Side Market and stopped at the park across the street to listen to Cats on Holiday playing at the weekly outdoor market. The weather was fabulous, warm and sunny. Later Joanne and I wandered over to Clinton Avenue for a party for friends visiting from out of town. We reconnected with them and with neighbors we hadn't seen for a while. Today we sat at a sidewalk cafe and listened to the church bells at St. Pat's. On the way home we joked with a friend hurrying down the street to Mass.
There are a lot of days and nights like this when I think "I love this town." Still, there's a price to be paid for variety and activity and closeness. There's the loud music and drunken laughter of backyard parties that sometimes go much later than I'd prefer. There's the lady in the back who every few months has a 3 a.m. screaming shouting fight with her boyfriend. Waking up, heart pounding, I wonder how long to wait before calling 9-1-1, just in case. There are those occasional popping sounds, sometimes closer, sometimes farther away, that you hope are firecrackers.
I visit friends and relatives in the suburbs or country and envy their peace and quiet, their lack of concern about bikes left in the yard, cars left unlocked. I enjoy that occasional freedom that comes with not having to worry about sounds in the night. But I miss the screen door sounds and all that comes with them. With all of its flaws, I love this town, this neighborhood. It's not perfect, but it's home.
More about my neighborhood
Cold & cloudy day — December 17, 2008
Neighborhood; cafe society — August 6, 2008
Welcome to...the neighborhood — May 18, 2008
Walking 'round the neighborhood — February 27, 2008
Fiocca's bakery is CLOSED — January 27, 2008
Portrait of my neighborhood (and yours) — January 17, 2008
Neighborhood sights — July 12, 2007

Top | |