JULY 18, 2009
New restaurant
Last night our intrepid group of friends tried a new restaurant just down the street a bit at West 58th and Detroit: La Boca. We've been there many times, first when it was Snickers, then Cheddars, then Krazy Mac's. Someone even pointed out an earlier incarnation as Lou & Eddie's. Joanne & I walked from our house but were very happy to ride back with someone as it turned very cool and rainy.
We started out on the patio, a pleasant space that unfortunately still shows a little resemblance to its earlier life as part of the parking lot. Adding a couple of larger trees and/or more lush greenery would improve it.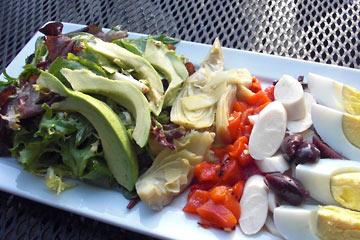 We enjoyed pan-fried mussels, bread, salads and white peach sangria as the sun got lower and lower in the sky.
I had the Heart of Palm salad which as you see includes much more. The ingredients were good but not wonderful, and I'd have preferred a bit more flavor in the dressing, which was almost non-existent. Still, I enjoyed the salad and cleaned my plate.
We waited I'd guess about a half hour for our main courses to arrive. Dark threatening clouds drove us indoors just as the waiter brought them out the door.
La Boca describes its food as "contemporary comfort cuisine with a Latin inspiration." This means no Tex-Mex standards, but items like yucca, plantains and chorizo combined with meat and seafood. There were probably a couple of vegetarian options too.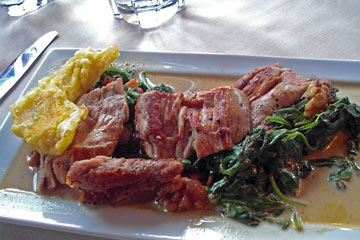 Inside at a window table we dug into salmon, crab cakes, flatbread, empanadas, and for me pork tenderloin with fried plantains and spinach with walnuts.
As with the salad, everything was good but lacked a richness of flavor. As a rule I appreciate food with subtle flavors rather than those that overwhelm you with spices, sauces, etc. But La Boca is too understated.
In my case I would have enjoyed the plantains fried more crispy-brown, and either more flavorful pork or the addition of garlic, salt or pepper to perk it up. I tried to take matters in to my own hands, but salt and pepper shakers were nowhere to be found.
Talking it over today, Joanne and I both give La Boca good but not great grades: she says B+, I'd go with a B. The prices are moderate, as are portion sizes. My feeling is that they are still working to develop their style, and the menu has enough of interest on it to make us want to come back. And $20 gets you a pitcher of sangria big enough to make four people pretty darn happy.
Top | |