MAY 29, 2009
Yin and Yang

Today was one a day of opposites: spent a couple of hours after lunch with a good friend, walking in the park. The sun was warm and the sky was spectacularly blue. We enjoyed just being outside.
We watched herons standing watch in Lower Shaker Lake. In this picture there are five of them (one looks like it's standing on the head of the one at right). A few minutes earlier there were eight in the group. I've never seen this many herons in a small area.
So the afternoon was all about free and abundant joys: friendship, nature, movement, conversation. The evening was different.

After supper Joanne and I went to the Target at Steelyard Commons to get a new laundry hamper. Our store experience went in the opposite direction: indoors, looking at stuff, talking about stuff, buying stuff, not enjoying it.
This shelf in the "Kitchen" section made me wonder: is this obscene or just silly? How many electric coffeemaker choices do we need? Other than the fifteen or so visible here, there are espresso makers on the other side of the aisle. Are we happier, more productive, better people for having all these choices? Are our lives richer? If not, why do we do it?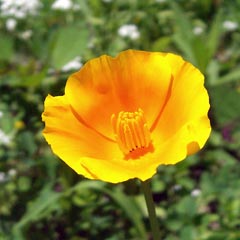 The Yin and Yang—"complementary opposites within a greater whole"—of walking in nature vs. shopping in a big box store are pretty obvious. Earlier as I admired a new flower in my garden I had another of these "opposites" moments.
Last winter I planted a package of Oregon wildflower seeds that I'd bought on a visit to Portland in October. So today I was happy to see this brilliant yellow visitor from the Pacific Northwest. But as I pulled the generic Ohio weeds around it I began to worry that maybe I'd introduced a potentially invasive species. Maybe my souvenir seeds would become a problem for our local environment.
A couple of days ago I'd heard author Doug Tallamy on NPR encouraging everyone to use native species in their gardens because they support many more varieties of local animals and bugs. Made a lot of sense to me. And here I am growing flowers from Northwest Oregon in my Northeast Ohio yard. Sometimes even pretty flowers can be a problem, as this article on the danger of Purple Loosestrife taking over explains.
Sheesh. Nothing is easy, is it?
Top | |