MAY 1, 2009
Grand Canyon opus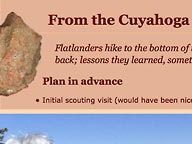 Here's what it looks like as of today.
Much of the day today I worked on the web article I'm doing about our trip to the Grand Canyon. The writing is about 95% complete, and now I'm working on photos and graphics.
With every new project I try to use at least one new idea or technique, so I'm incorporating a CSS (Cascading Style Sheets) image pop-up that shows a larger version of the thumbnail image. Move your mouse over the image at the right to see how this works.
I've used something similar on this website before, but this particular technique is an improved version. It's more flexible and as you can see allows me a caption below the pop-up image.
If you want to see the almost-but-not-quite-finished article, take a look here.
Top | |