MAY 21, 2009
Graffiti art, near Train Avenue
Sometimes you can debate whether graffiti is art or simply vandalism, but what's been created on this pair of abandoned service buildings between the tracks and Train Avenue is surely art. As a professional designer I'm impressed with the thought and planning that went into this dynamic black and white composition that spans both buildings, wrapping around at least two sides of each.
I don't know the visual vocabulary being used—the significance of the skull or the upside down crown—or what prompted this illustrated list of negative feelings. The diagonal lines and sweeping shapes are all tricks of the artist/designers trade, used to create interest and a sense of activity. While the words: "Ill Will" "Resentment" "Grudge" "Rancouer" (sic) "Malice" and "Spite" are emotions connected with anger, this doesn't feel angry to me. It's seems more of a celebration, exuberant not sinister.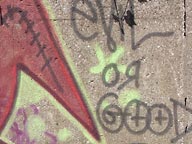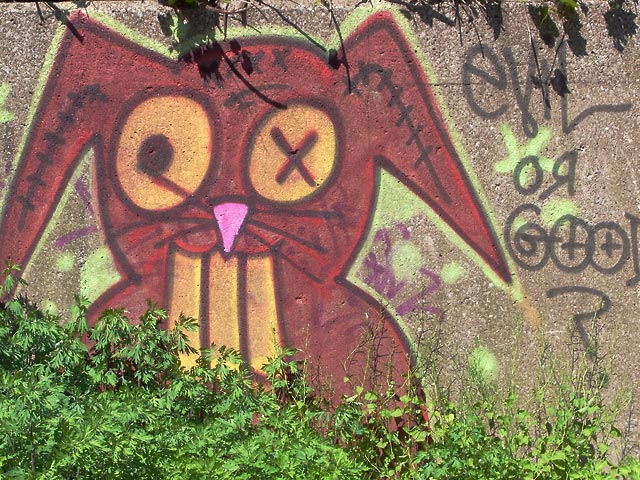 This whimsical yet sinister bunny asks the eternal question: evil or good?That was the most spectacular piece Jared and I saw as we walked along little-used tracks from the Flats to West 41st Street, but there was a lot more. The often grim trackside atmosphere was enlivened at every bridge and underpass with a collection of colorful pieces.
Mouse over small images to enlarge ->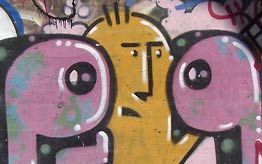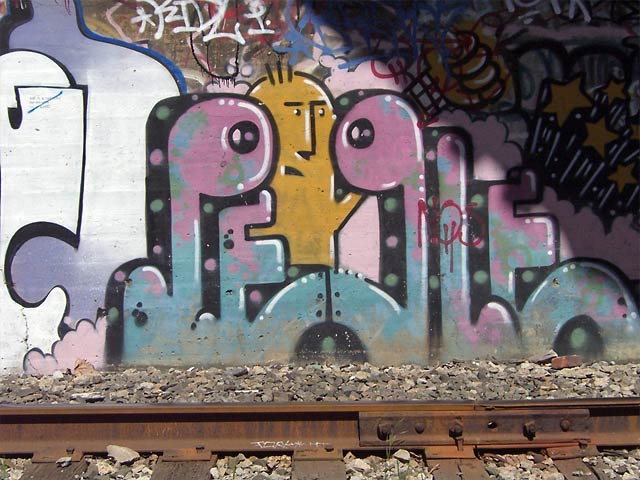 Our little yellow friend looks like he's trying to bring the others together.I've ridden a lot of trains in the a lot of European and American cities. I always keep an eye out the window as we approach the outskirts of a city to see what the local graffiti looks like. And I'm proud to say that in quality and range of style, Cleveland is way better than most.
I'm always amazed at the variety of different styles, from very typographic to quite illustrative. There's both humor and ego displayed in abundance, and the color is sometimes fantastic.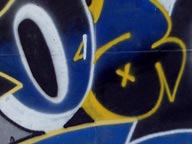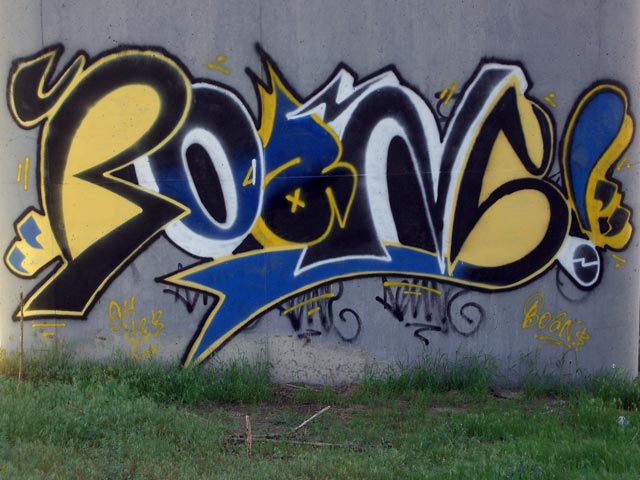 This more typical style uses vibrant colors that pop out against a gray bridge support.Truth is, the work is often superior to what I see done by our students who are studying to be professional designers. Maybe we should have some of the graffiti artists come to the college to share their ideas.
More about graffiti
Graffiti and shadows - March 1, 2008
Walk through the Flats: color, shape, texture - February 8, 2008
Graffiti Mona Lisa - November 10, 2007
City Expressionz graffiti festival - August 25, 2007
Greek graffiti - July 8, 2007
Laser graffiti - March 7, 2007
Top | |