MAY 6, 2009
Progress
Outside
About ten days ago I planted sugar snap peas in the garden, first time I've tried growing an early crop like this. A couple of days ago I was fooled by a few similar weeds that popped up in the row, but when I saw more of them in other parts of the garden I went back & plucked them out. Imposters.
Today's little guy is, I'm pretty sure, a pea. Tomorrow I expect to see a few more, especially after today's long gentle rain.
Another entry on my garden timeline.
Inside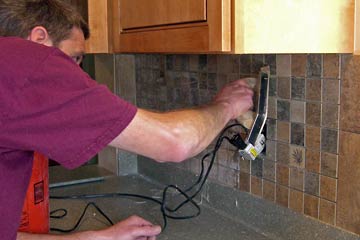 The kitchen is very close to being finished. Today Ralph from Precision Building Solutions grouted the backsplash tile that he'd installed yesterday. Looks great.
He also installed the Broan range hood that I tried out today while making burritos. We got one of the more expensive versions at Home Depot because it's both quiet and powerful. It has four small halogen bulbs to light the stovetop below, maybe overkill. But they, like the fan, have a Hi/Lo setting, which helps.
Tomorrow the custom-made chair rail will top off the wainscoting and shoe mold will finish the bottom. The rest of the things on our "punch list" for the kitchen are little things like leveling the refrigerator and stove, adjusting cabinet doors, etc. The end is in sight.
Canyon
The illustrated narrative of our Grand Canyon trip/hike, From the Cuyahoga to the Colorado, is likewise just about done. I've mentioned it on Twitter and Facebook, hoping that friends & associates will take a peek. I'm pretty happy with how it's turned out, both the content and design. There are a few visual refinements I may add in the next few days, but I think it's ready to meet the public.
I also think it's time to move on to something else. This is the kind of project that you can always add to. Sometimes you just have to declare it done or it never will be.
Top | |