MAY 30, 2009
Clean-up (and pancakes)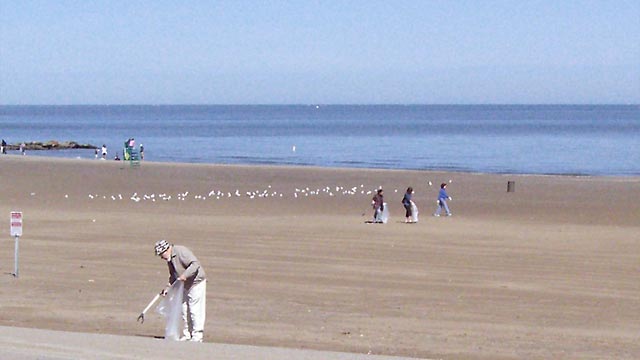 Saturday was a glorious day to take part in the Sierra Club's 7th annual Trash and Pancakes beach clean-up. After a hearty breakfast of pancakes, eggs, coffee and juice (I'm a sucker for pancake breakfasts) 30-40 of us pulled on gloves, grabbed plastic bags, and fanned out across the beach and hillside to pick up trash.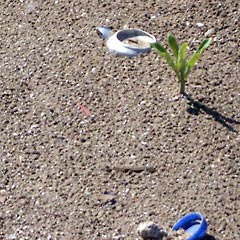 I'm sure everyone had their own strategy. Mine was to concentrate on the edges of the hillside where the tractor-pulled sand cleaning machine can't reach. In the grassy areas, plastic bottles and aluminum cans had been shredded by the lawnmower, so picking up every piece was impossible. In the sand the waves and weather did something similar.
Rather than trying to get every single scrap, I decided to go after the stuff that looked out of place: if it was shiny or geometric or bright blue or green that made it a target.
We worked for about two and a half hours. It felt good to be cleaning up a park I use and enjoy several times a week throughout the year. It felt good to be working with others, both friends and strangers, to improve a community space we all share. People passing by often stopped to ask what we were doing, and to thank us for our efforts. An event like this cleanup gives you an idea of how society can and should work when people cooperate for the common good.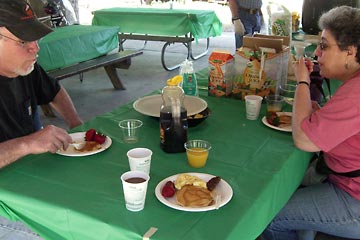 And the breakfast was good, too. Here my friends Jared and Anita dig in, while my plate of pancakes, eggs, veggie sausage and strawberries waits for me.
More pancakes for breakfast:
Chicago, Logan Square — August 29, 2008
Leaving Glacier, east to North Dakota — October 18, 2008
Beautiful day; horror — May 4, 2008
Convention-center green; good breakfast — June 3, 2007
Top | |