JUNE 2, 2009
Watch Wal Mart grow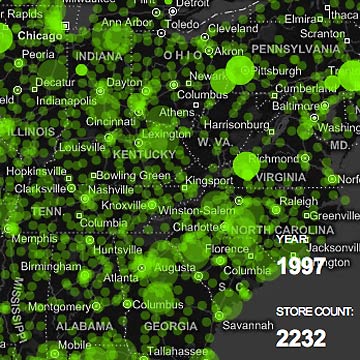 Like it or not, Wal Mart has become a part of America's landscape, and before long the world's. Hard to believe that in the early 60s there was only one Wal Mart store.
If seeing is believing, this animated map will help. Time and motion combine to show Wal Mart growing from a single store to a retail pandemic.
The animation tells the story effectively, but would be even better if interactive. I wanted to be able to stop it at certain years, and to see the progress on a timeline instead of just numbers.
See this and more at the very interesting Flowing Data website:
FlowingData explores how designers, statisticians, and computer scientists are using data to understand ourselves better - mainly through data visualization.
Top | |