Travel plans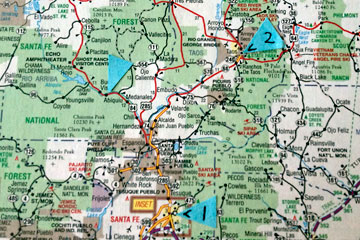 In a few weeks we're going to Santa Fe, then to Mesa Verde National Park via Durango, CO. I've been planning for more than a week, not done yet. Every time I do this I remember why travel agents earn a commission.
There's so much travel information available, much of it incomplete or contradictory, that sorting through it can be intimidating.
Finding the best airfare, rental car, hotel is more than just getting the lowest price. You have to know the options well enough to choose what's right for you in other ways. The internet makes finding lots of options easy. Deciding what's right for you is a lot harder. This is where a good travel agent makes your life easier.
But we don't use a travel agent anymore, mostly because we've tried and haven't found someone really good. Instead I spend a lot of time on the internet and phone. By far the most helpful resource I've found online is TripAdvisor.com.
Millions of reviews
TripAdvisor (TA) is comprehensive, covering places to stay, eat and visit around the world. The core of its value is in the 80 million reviews submitted by travelers. I usually look up the city we plan to visit and then check for a hotel or B&B that's ranked in the top ten or so. From this list I read reviews carefully to see what people loved and hated.
TA has led us to Bed & Breakfast Pio in St. Petersburg, Russia, a place so intimidating from the outside we'd have never climbed the stairs without the recommendations on TA. When I visited Berkeley, CA I stayed at the Golden Bear Inn because the reviews promised by a clean, inexpensive but not fancy room. More recently we found the charming Au GitAnn in Montreal where we spent several pleasant days.
As I was booking places to stay in New Mexico, TA emailed an article on 10 Quirky Hotels, a headline that was like catnip to a cat. Second on the list was Earthship Biotecture, Live off the grid. How could I pass that up? So we'll visit Taos and spend a night in the Studio Earthship.
Because I so appreciate what others have said about their travels I've submitted about 20 reviews of my own, earning me the exalted title of "Senior Contributor." If you're not already a fan of TripAdvisor, you really should try it when you plan your next trip. Or look up your own city/town and see what others have to say. You may find a unique place to visit right under your nose.