Montreal, now and then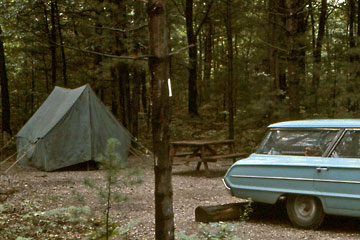 Last month we visited Montreal and saw a couple of reminders of the world's fair the city hosted long ago, Expo '67. Today as I sorted through old slides I found my own reminders.
On a whim three or four of us guys had piled into Fred Ribich's dad's car and driven to a provincial park somewhere outside of the city.
We knew nothing about camping and had just the supplies we could borrow from friends. Note that our old canvas Boy Scout tent had no floor, which gave ample space for wind to blow in. And it did.
I remember that part clearly. We froze our butts off during several long cold Canadian nights. We went in to the Expo as early as possible to warm up.
Habitat '67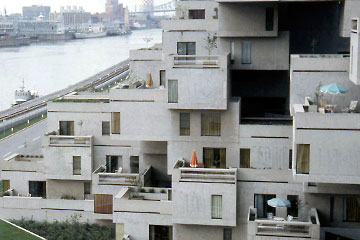 A highlight for me was architect Moshe Safdie's Habitat '67. I believed the hype, that it would be a model of high-density housing.
Here, in 1967, Habitat is bright and colorful, an exciting vision of how we might all be living in the future. I loved it then, and am pleased that it has weathered well.
This concrete Utopia—354 identical pre-fab units arranged in different ways, each with a private terrace—never caught on as the architect and builders had hoped.
Maybe it was too geometric, or too crowded, or too expensive for most of us. You can still buy or rent a home there, though.
Geodesic dome
In 1967 the Buckminster Fuller-designed United States pavilion was just one of a cluster of fanciful structures on Île Sainte-Hélène in the St. Lawrence River. A monorail took you from place to place.
Of these, only the dome has survived. Now it stands alone, a focal point of a leafy green park with paths that take you from place to place.