On vacation
Helsinki, Finland to St. Petersburg, Russia on the morning train.
After arriving in St. Petersburg we asked a cabbie who spoke little English to take us to the Mini-Hotel Pio. One of our group had cleverly printed out the information and location in Russian from the web, and when she showed this to the cabbie he immediately said "no problem." After only a moderately-harrowing drive through traffic we arrived at the door: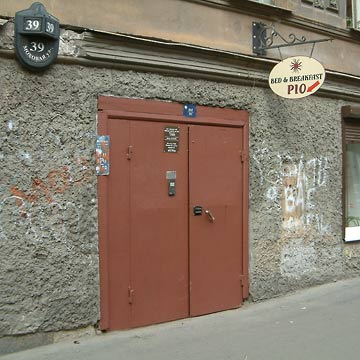 Didn't look too appealing (this photo was taken on the day we left, after the door got a fresh coat of paint). More problematic was the fact that the two signs on the door were in Russian.
Looking at the one above a keypad I saw the numbers 1 and 0 and the "*" symbol, so I tried pushing 1-0-* then *-1-0, and we heard a greeting in Russian-accented English. The door started beeping, and we were able to pull it open...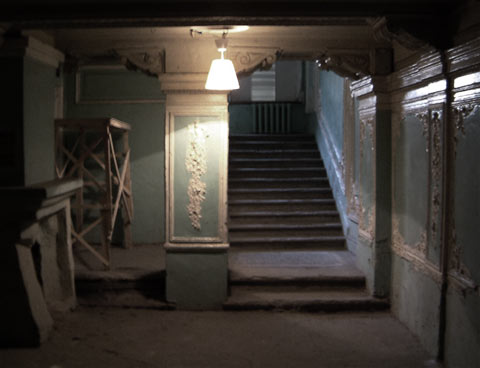 This is what we saw, sort of (see note below).
Inside was lit by a single bulb. The dusty concrete floor and steps were in bad shape.
It looked abandoned and felt pretty creepy, but we were committed at this point. This was home for the next three days.
About what we saw: the actual photo looked much brighter and cheerier than this, not at all as I remembered it. So I modified it to look like what was in my mind's eye. Which is more truthful?
But back to our arrival...as we walked up several flights of stairs it didn't get much better.
On the third floor landing a newer-looking door said "Bed & Breakfast Pio." We were greeted by the young and cheerful Olga, and were more than a little relieved when we stepped inside and saw a brightly-lit lobby.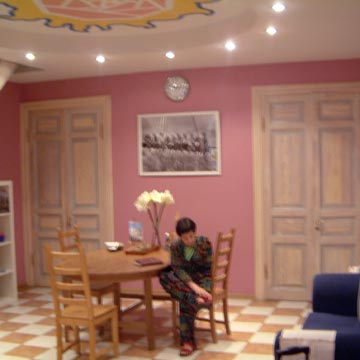 Things got better. Olga, our hostess, was very friendly and helpful, and explained the inner workings of the Pio, named after its Italian owner. You had to take off your shoes when you stepped inside and put on slippers thoughtully provided in a rack next to the door.
The rooms, with names of cities in Italy rather than numbers, were large, clean and colorful. They had new furniture and sparkling bathroom fixtures.
There was a computer in the 4th floor lobby for guests to use. The kitchen/breakfast area was also available for our use. We had several breakfast options, hot and cold, and had to sign up for them at a specific time each day of our stay.
Seemed like Mr. Pio has a way he likes to do things, and guests had better get with the program. Despite this, the Pio was a pleasant and relatively inexpensive place to stay in St. Petersburg. Its location, quite near the river Fontana and a short walk from Nevsky Prospekt, made it easy for us to get to major attractions.
The breakfasts were good, and we met a number of friendly and interesting fellow travelers as we chatted at the table, including a woman who lives in Cleveland!
So despite our dubious introduction, our stay at the Pio was great. We all agreed that we'd recommend it as a place to stay in St. Petersburg. Price, location, rooms, friendliness of the help all make it worth dealing with the minor issues of Mr. Pio's no shoe rule and somewhat inflexible breakfast routine.
In conversation and via Google we learned that the reason for the shabby first couple of floors in the building is that they are "kommunalka," communal apartments leftover from the Bolshevik era. Starting in 1917, fancy private homes were split up into multi-family shared living facilities, with each family getting a single room. I think like rent-controlled apartments in New York, there status remains unchanged, which means little or no maintenance, among other things.
This article about kommunalka estimates that up to 20 percent of St. Petersburg's citizens still live in apartments similar to those below the Pio.
TOP | | |