Spreading the joy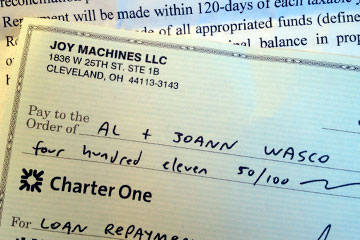 About a year ago we cast our vote of confidence for a couple of young neighborhood entrepreneurs with a dream of opening a bike shop on West 25th Street.
We wrote a check to Joy Machines LLC as a loan to help them buy their initial inventory. According to our agreement, repayment would start if and when the shop made at least a minimal profit for the year.
Good news: here's our first check, meaning that even in that rough first year for any small business, Joy Machines made money.
We're happy to be depositing the check, and even happier that our new neighborhood bike shop is thriving. It's a neat little shop for all your biking needs—pay them a visit sometime.
Top of page |