The destination, not the journey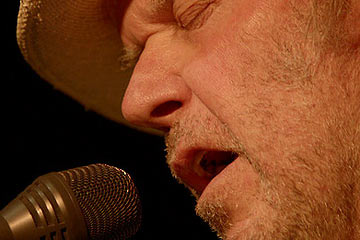 The movie's trailer says that the two hour drive from Neil Young's Canadian hometown to Toronto's Massey Hall has "been a lifetime."
I'd hoped Neil Young Journeys would be about that lifetime but it turned out to be not so much. The road trip was disappointing, but the Massey Hall concert at the end of it wasn't.
I wanted more conversation during the drive, but Demme simply let Young talk and filmed it. This made for too much "...and this is where so-and-so lived, I think" and not enough about what it was like growing up in a small town. Or to be playing in Massey Hall, where the audience obviously loved their native son.
The concert
Jonathan Demme knows how to make concert films. His Stop Making Sense with the Talking Heads is one of my all-time favorites, right up there with Scorsese's The Last Waltz. So in this film we get an up-close and personal look at Neil Young playing a mix of 70s favorites and new stuff from 2010.
Unlike Jackson Browne last week, Young sang powerful new songs and refreshed his old. His unexpected organ accompaniment on Heart of Gold was fantastic. When he sang Ohio (accompanied in the film by photos and video from the May 4, 1970 Kent State shootings) it was clear that he hasn't lost his outrage.
The concert sound is great throughout, making it feel like you're right in the middle of things.
And there's the camera work. Lots of close-ups and different angles. And extreme close-ups. From a camera mounted just under the mic. This view was for me too close for comfort. I don't really need to see the performer's dental work. That aside, you feel like you've got by far the best seat in Massey Hall.
So if you're a fan of Neil Young's music, you'll definitely enjoy Journeys. If you're interested in learning about him as a person, you'll be less enthusiastic. I loved the music but had hoped for more about the man.
Top of page |