Bad day
It's a bad day when you see students standing in quiet groups in front of the big video monitors in the central area of campus. CNN is showing live photos of a school shooting in your town. It gets worse when you find out that the school is one where a good friend teaches. Early, sketchy information says a couple of students and a couple of adults were shot. No mention of fatalities, thankfully.
It's amazing how we've come to expect instant, complete information on whatever we're interested in. I was intensely frustrated that I couldn't find out any more about who was shot. I closed myself in my office and tried to find updates on the web. The Plain Dealer's website Cleveland.com was next to worthless: it had a single short report that wasn't updated for probably a half hour. CNN.com was OK but again didn't update their information very often. I finally found a local TV station site, WKYC.com that had updates about every ten minutes.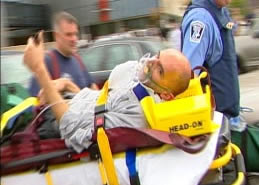 The day got worse when I looked at the photos and saw someone who looked too familiar: the oxygen mask obscured his face, but it had to be David. At this point, no names had been published, but it had to be him. It looked like he was giving a "thumbs up," so hopefully he wasn't injured seriously. The first reports said both adults shot were in "serious" condition.
I called Joanne a couple of times to see if she had heard anything through the school grapevine, but my first call caught her completely by surprise. She made a couple of calls but couldn't find out anything more. I had to go to class, and it took me several minutes to focus. I told the students briefly what had happened as a way of explaining my somewhat scattered thoughts. Fortunately once class got underway it gathered momentum and kept me from thinking about that picture.
By the time I got home at 9 pm, the news was definite but better: it was David, but his injuries were relatively slight and he was coming home soon.
This all hurts. I can't imagine going back to work after an experience like this—how do you regain a sense of normalcy? I feel terrible for my friend, for the other students and adult who were injured, for the shooter who killed himself soon after. I feel terrible that this happened in the city I love, which has suffered months of equally terrible violent episodes. What do we do now?
Top | |