Told ya so
One of the reasons I dislike the idea of trying to improve energy-efficiency by banning things like incandescent bulbs is that it can easily backfire.
Right now CFLs (compact fluorescent lights) seem to be the best alternative, but as this newspaper article indicates, there may be other options. Why not have the law require reduced energy use and see what ideas people come up with to accomplish that?
West Side Market
One of Cleveland's top tourist attractions is the West Side Market. The great thing about it, though, is that it's a real market where regular people buy their food every week. It's not just someplace tourists go. Most Saturday's I go to the market to buy meat, vegetables, cheese, bread, bagels... whatever is on our list for the week..
I have regular stands I go to, having learned that price isn't as important as finding a place that consistently has good food. Here are my faves:
CHEESE: Meister's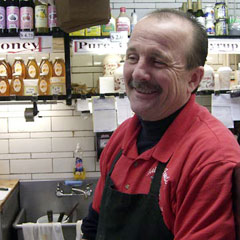 Ed Meister is the big...well, you know what...at Meister's Cheese.
My usual order includes NY cheddar, swiss, and something extra tasty, like smoked gouda, or today, havarti with dill.
Depending on the week, I may get six slices of American to use on scrambled egg sandwiches for me and grilled cheese sandwiches for Arianna, and occasionally fresh-ground peanut butter.
Ed's the kind of guy that usually jokes around with you unless it's super-busy. Today was pretty laid back.
PORK: D.W. Whitaker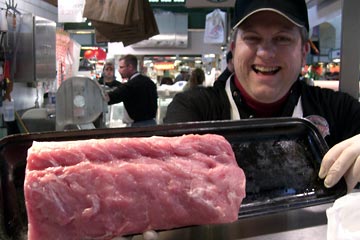 After years of going to Pinzone's for pork, I've switched to Whitaker's. I think the pork is more tender, plus they sell chicken, too, so I can kill two birds... well, you get the idea.
Today I thought I'd try something different with pork loin roast, a recipe I found in Joy of Cooking.
After taking this picture I got to talking with Pat, the guy holding the pork roast, and found out that he's got his own West Side Market blog. I guess everybody's doin' it.
LUNCHMEAT: Walker's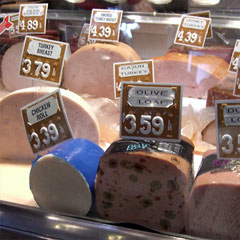 I used to go to different places until I noticed crowds all the time at Walker's. Once I tried their smoked turkey I became a regular.
My usual approach is to check out the Bavarian and the Amish ham to see which looks best—sometimes there will be a little fat or gristle visible. But at least one generally looks good, and that's what I order.
Turkey is another staple of our lunch diet. For Joanne I get regular turkey breast ($3.79/lb). I prefer smoked or honey turkey ($4.39). I have them slice it very thin, almost shaved, which makes for a pretty tasty sandwich.
Every once in a while I get some hard salami, which often ends up on pizza. For special pizza occasions it will be pepperoni.
BREAD & BAGELS: Christopher's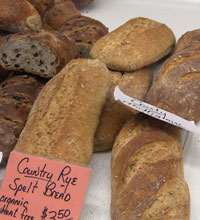 Without question Christopher's is the place to go for bagels: they sell the good ones from Bialy's in Cleveland Heights. Sure we pay a bit more for the convenience, but it saves me a trip to Warrensville Center Rd. just to buy bagels.
Those in the know get to Christopher's early for the best selection. By the time I got there—about noon—the only kinds left were poppyseed and whole wheat. The more popular sesame-seed, my favorite, were nowhere to be found.
Same problem with bread: I planned to get a loaf of Siciliano, a good bread for sandwiches, and Joanne's favorite, but they were out of it. My second choice, Pugliese, was gone too. So I settled for crusty multi-grain, tasty but slices too small to make good sandwiches.