Election debate mash-up?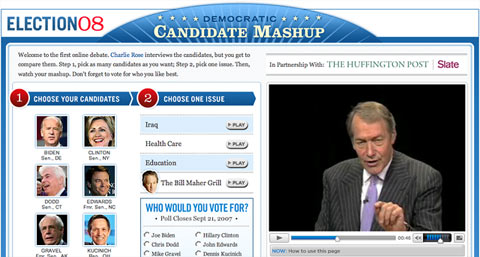 "Take control, and make this debate count," Charlie Rose solemnly intones in his introduction to the Yahoo News Election 08 Candidate Mashup.
Oops, make that Democratic Candidate Mashup. Here's Yahoo's explanation for the one-sided debate:
You may be asking yourself, "What about the Republicans?" The answer is simple. We're starting with a Democratic Party debate because the Democratic candidates were the first to agree to participate.

Republican candidates have been invited to participate as well, and we will continue to reach out to them in the coming weeks. We hope we will soon be able to bring you a Republican mashup debate.
Setting aside the lack of Republican participation, what makes this piece of election news coverage a mashup? Wikipedia defines mashup as "a web application that combines data from more than one source into an integrated experience."
By that definition it's a mashup, but a kind of mild one. There are only three topics to choose from (Iraq, Healthcare, Education), with Charlie Rose asking a few softball questions of each candidate. The Bill Maher "Grill" includes funnier and more pointed questions, but since he asks different questions of each candidate you can't compare their answers.
To me a true mashup allows people to create their own perspective on information, not just make a few choices off a short list. This first attempt by Yahoo falls quite a bit short. As a way to get people more involved in the electoral process it's a good idea nonetheless. I'd suggest they add more and better questions, perhaps allowing you to choose the interviewer as well as the candidate.
More thoughts about mashups using Google Maps here, here and here.
The Truth-O-Meter

I found another item on the Yahoo Election site that's even more useful and fun than the Mashup: the Truth-O-Meter, a project of Politifact.com. The goal of this site is to examine the claims by major candidates from both parties and rate their truthfulness. Truth-O-Meter ratings run from True and Mostly True to Half-True, Barely True and Pants on Fire.
For example, local boy Dennis Kucinich (D) got a "Half-True" for saying "Our whole food system in this country...most of it is genetically engineered. And (there is) no testing for the health consequences of this food."
On the other hand, fellow Democrat Bill Richardson scored a flaming "Pants on Fire" when he said "Iowa, for good reason, for constitutional reasons, for reasons related to the Lord, should be the first caucus and primary."
The candidates' statements are researched by staff members from the St. Petersburg Times and the Congressional Quarterly. With each statement they include the sources they used in their research, web links, and the names of the researchers. You can browse the site by candidate, subject, political party, where the statement was made, or my favorite, Pants on Fire rulings.
With all the BS that gets thrown around during election campaigns, the Truth-O-Meter provides us with some welcome self-defense. Combine it with the authoritative FactCheck.org site and you have a fighting chance at making sense of the election.
TOP | | |