OCTOBER 14, 2010
Happy (Dog) ending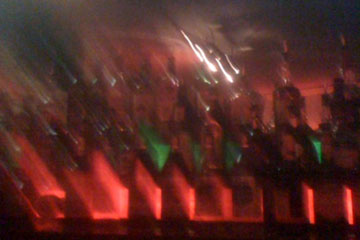 At least once a semester I try to meet with each of my students individually to talk about how they're doing in class.
These conversations are always interesting, usually enjoyable, occasionally painful. Today I had about thirty of these little get-togethers, and at 9 pm I was emotionally wiped out. Seemed like a great time for a visit to the Happy Dog.
I felt a little guilty driving past Old Fashion Hot Dogs on Lorain Avenue, but the last time I stopped for a chili dog I realized that for the price of two small and lately mediocre Old Fashion dogs I could get a big, juicy dog in a poppyseed bun at the Happy Dog. With my choice of 50 or so different toppings. And a really good beer to wash it down.
The Dog was jammed for a Thursday night—it's become quite the hipster hangout recently. I sat down at the bar, ordered a dog with Caribbean Slaw, Kansas City BBQ Sauce, Carmelized Onions, and Tillamook Cheddar. Oh, and a side of Tater Tots. And a Left Hand Sawtooth Ale.
The dog and tater tots were most excellent. The beer good. I took my time eating, enjoying every bite. Thus, another beer, this time Dogfish Head 60 Minute IPA. By the time I left I was feeling much better.
Thanks, Happy Dog. You made me happy tonight.