JULY 23, 2010
Cool treat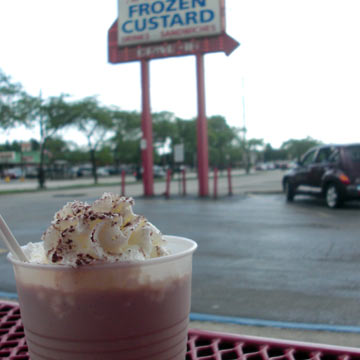 It was hot and steamy today, felt like the hottest day of the summer. My car thermometer read 95 degrees. So, after visiting with Mom in Brook Park I couldn't resist the siren call of East Coast Custard.
I turned off the a/c in the car and then rewarded myself for toughing it out by slowly slurping down a big Cafe Mocha Shake. With whipped cream on top it was probably a bazillion calories. I had the shake at 5 pm and didn't even think about supper until 9.
Ah, summertime.
As you'll see below, it doesn't take much for me to decide I need a special treat.
Previously, at East Coast Custard
End-of-semester treat—May 24, 2010
Last treat of the year—December 13, 2009
Mission accomplished treat—September 4, 2009
Film & food—March 13, 2008
First time this year—March 3, 2008
Good flavors today—November 28, 2007
First cone of the year—March 22, 2007
First visit (unsuccessful)—March 8, 2007

Top | |