JULY 22, 2010
Corn & tomatoes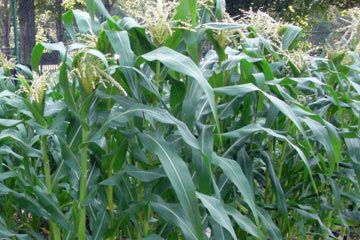 I'd intended to write about a spiffy Internet application that lets you compose your own music, something geeky and fun and maybe even useful. But then I went to the garden.
In addition to the garden in our back yard, Joanne reserved a small plot at the nearby community garden and planted a few rows of corn.
It was encouraging today to see them standing tall and green, many sporting tassels that will by the end of August turn into delectable ears of sweet corn. Sweet corn fresh from the garden is almost as good as...
Tomatoes
Strictly speaking these aren't our first tomatoes of the year, but they are the first in any quantity. Most are Romas, but there are a couple rounder ones that I think are Early Girls. I should be better about recording what I plant and where.
For some reason I didn't put them in the picture, but there were also yellow and green peppers ready to pick today.
Some of the tomatoes made it into my dinner tonight as part of a...
Quick veggie crepe
A few things had been hanging around in the fridge too long. The carton of milk had turned sour, a green pepper was starting to get wrinkled, and an ear of sweet corn was cooked a few days ago but never eaten.
So I chopped and sauteed onions, zucchini, green pepper in olive oil and added the corn. I mixed up a batch of Aunt Jemina pancakes, making the batter extra thin for crepes. On each one I smeared a spoonful of garlic scape pesto, added the sauteed veggies, topped them with chopped tomatoes and chunks of fresh mozzarella, rolled it up and bit in.
Delicious.
Next month I'll do this again with all fresh-picked ingredients and expect it will be even more fabulous. It's meals like this that make me think that meat is unnecessary.
Top | |