OCTOBER 1, 2010
Friday in the 'hood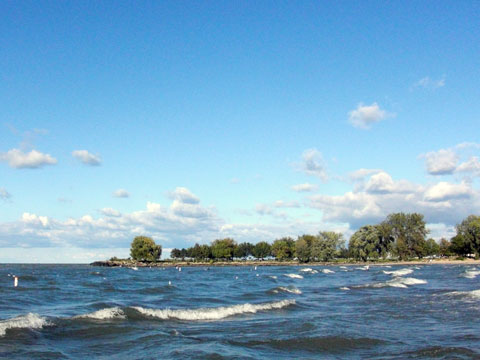 Lots to do. Update this site after a few days off. Work on school stuff. Spend a little time in the garden. Drink coffee. Go to Edgewater for first run since...yikes!...more than a week ago.
Fortunately the sun was shining (mostly), the brisk breeze was kicking up waves, and it was a gorgeous day. Even better, the trees were still green.
You know that it is truly, unavoidably autumn when the trees at Edgewater Park turn yellow and red . Because the lake temperature moderates the weather near shore, the change of seasons always comes a little late to Edgewater. In Spring, cold winds off the lake make for chilly days and nights, and in the Fall the opposite is true.
Tacos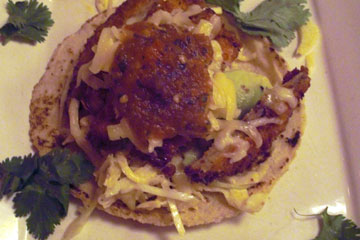 We decided to try a new neighborhood restaurant, Roseangel, for supper. Partly I didn't have the time and energy to make something, partly I wanted to check out the "moderne" tacos.
The dim lighting makes the food look a bit tired in this photo, but in fact it was fresh and very good. This was the crispy eggplant taco. Joanne had battered perch, and we later split a potato-crusted chicken.
The bed of coleslaw-like shredded cabbage was a new taste, and the other ingredients were fresh and flavorful. I really like the house-made soft corn tortilla. We didn't try the other option, a commercial crispy taco.
Another local Mexican-inspired restaurant is Momocho, and I can't help comparing the two. Roseangel wins with its very good guacamole and interesting, reasonably priced tacos. Momocho wins for killer margaritas. The Roseangel apricot-rosemary version was no match for Momocho's cucumber margarita.
Still, I'm looking forward to more tacos from Roseangel.
Music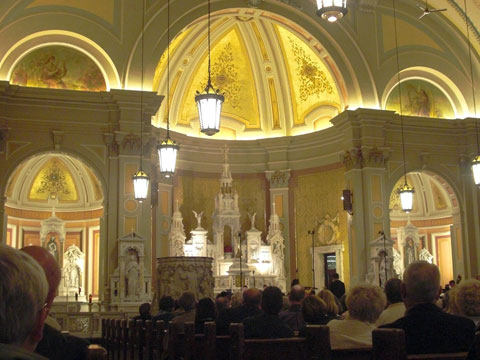 CityMusic Cleveland was performing Beethoven for free at St. Colman's church, a few blocks from Roseangel.
The setting was beautiful and the sound was terrific even from our seats on the side, near the back.
CityMusic's free concert series that travels to churches throughout Northeast Ohio is an amazing gift to the public. I had no hesitation at all about dropping a ten-dollar bill in the offering basket that was passed before the intermission.
Intermission was a joy too. The church ladies provided two tables filled with pastries, and a couple of big pots of coffee. The mostly young musicians and the noticeably older audience milled around the basement church hall, enjoying the food and each other.
The whole event was a very pleasant way to spend the evening, and as for the performance itself, well, I'm no classical music critic, but I'd say it was quite good. The audience, at least 500 strong, gave the group a long standing ovation.