SEPTEMBER 8, 2010
The President's visit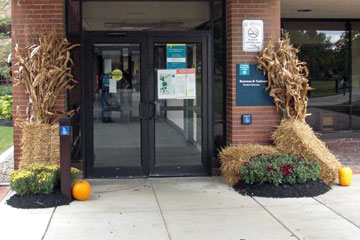 If you didn't notice the small group of protesters on Pleasant Valley Road and ignored the sound of a news chopper buzzing overhead, you'd still know that something special was happening on campus when you got to the entrance to the Business & Technology building today. These autumn decorations were new this morning (and gone Thursday afternoon).
Yep, it was President Obama visiting Tri-C Western Campus. We started getting emails from the powers-that-be a couple of days ago warning us that parking would be restricted and some building entrances would be closed for security reason. We were also told that the event was invitation-only, so I planned to watch it on TV.
Surprise! A half hour before the talk was scheduled to begin an announcement was made that anyone who wanted to attend should just head for the gym with their ID. I was one of the last through the doors, so had the back row view you see hear.
The President's speech was low-key and serious for the most part. He talked about debt and taxes and how things aren't going so well. Not terribly upbeat topics, and the gym was very quite for much of the speech.
A couple of times the crowd got up and cheered, including when about midway through his speech Mr. Obama said:
So no, our job is not easy. But you didn't elect me to do what's easy. You didn't elect me to just read the polls and figure out how to keep myself in office. You didn't elect me to avoid big problems. You elected me to do what's right. And as long as I'm President, that's exactly what I'll do.
I had hoped to leave the gym feeling inspired, but that wasn't the case. On the other hand, I left with more respect for Mr. Obama's intelligence and overall approach to his role as President. He criticized the Republican opposition pointedly but without scorn. He promoted Democratic policies but didn't claim to have all the answers. He came across as truly presidential. Some days as I watch or read the news I'm not sure the country deserves him.
More
Full speech [ video ] [ transcript ]