Bad dream
It's a clear sign that summer vacation is coming to an end. I woke up this morning after an unsettling dream about a web design class I was teaching. In a sort of geeky teacher version of the dream where you're in front of an audience with no pants on, I dreamt that I had just given a class a final exam that I hadn't even seen myself. I told them that they would pass or fail based on their test score, all the while thinking that there's no way I could grade the test fairly.
To top it off, as I was giving them final instructions on how to get their grade and test results, the entire class was chattering away, completely oblivious to what I had to say. Sheesh.
Dream curriculum
The reality is I'm usually pretty well prepared for class, and most of the time students pay attention to what I have to say. The class that went so badly in my dream is one which I teach frequently and usually goes very well, Web Publishing I. I was reminded of this a couple of days ago when I saw a reference online to the Opera Web Standards Curriculum.
The folks behind the web browser Opera, together with other experts in the field, created a "dream curriculum" to teach web design. It's made up of more than 50 online tutorials that:
..takes students from complete beginner to having a solid grounding in standards-based Web design, including HTML, CSS, and JavaScript development. The course is supported by top companies and organizations such as the Web Standards Project (WaSP) and Yahoo!.
I was pleased and encouraged to see that with the exception of a section on Javascript, our Web I course objectives and syllabus match up quite well with the Opera curriculum.
-> Complete Opera Web Standards Curriculum
-> Websites created by students in my Web Publishing I class.
---
Vacation update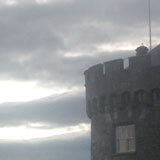 Just added:
Kilkenny Castle; Fancy Sandwich; Dunmore Caves
— July 28, 2010