AUGUST 23, 2010
Neighborhood gardens
I usually avoid the tourist-oriented "house & garden" tours in our neighborhood, Ohio City. They cost $10 or more and in my mind sent the wrong message, that what makes a neighborhood interesting is its architecture. I know differently. It's the people, not the buildings.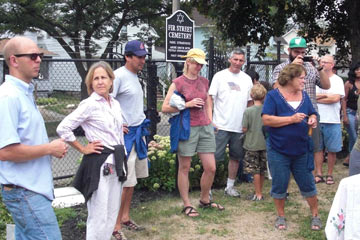 On the other hand I really enjoyed Sunday's 3rd Annual Detroit-Shoreway Garden & Chicken Tour. It was free, and it was a group of neighbors walked around to look at each others' gardens. And chickens.
Early on we stopped at this small Jewish cemetery on Fir Avenue that was restored by a small group of neighbors. I never even knew it was there.
Then we walked to about a dozen houses in a ten-block radius. I took pictures at a few.
---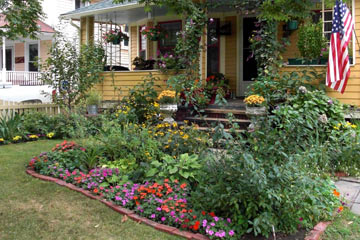 I like the colorful, casual look of this front yard flower garden. Our front yard needs work, so this may be the direction we go with it. Minus the grass.
---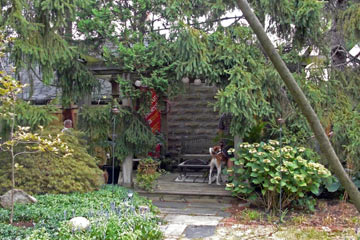 Here a backyard "room" under the trees gives me an idea of what we might do with our underused back yard.
---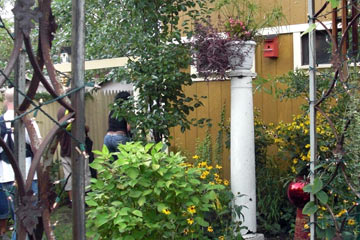 The flower pot on top of an old wooden column gives me an idea of what to do with the post I salvaged from our front porch renovation.
---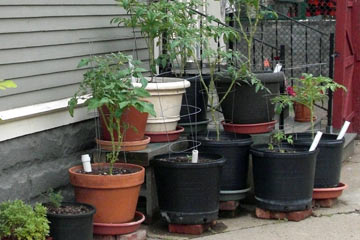 A collection of different-sized pots makes room for tomatoes and other vegetables.
Oh, as for the chickens? A couple of folks had small coops in their back yards and 3-4 hens. They both emphasized that it was relatively easy to raise chickens. When asked about the eggs, it was obvious that a small family gets more eggs than it needs on a day-to-day basis. Almost sounded like a nuisance to have to figure out what to do with them. Hmm.
---