AUGUST 28, 2010
Ah, summer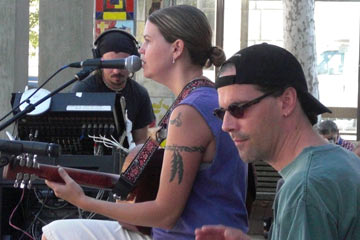 80 sunny degrees and we stopped on the way home from the West Side Market to listen to Kristine Jackson at Market Square Park.
It was one of those fabulous end of summer days that started with just enough chill in the air to remind you that before too long the leaves will be falling from the trees.
We spent a couple of hours this morning in Hudson trying to fit into the suburban soccer culture. We were helping our daughter wrangle her three young 'uns, the two boys joining different soccer teams for the first day of practice, and the baby just being a baby.
The soccer was pretty painless, an hour of practice that ended in smiles. Unfortunately our plans for a pleasant lunch together got sidetracked when Joanne's purse couldn't be found anywhere. We retraced our steps at the soccer field, talked with people sitting where we'd been, and paid a visit to the Hudson Police station. Our drive back to Cleveland was a glum one.
But later as we sat listening to KJ in the park my phone rang. Sharon had found the purse wrapped up in baby paraphernalia. Magically the sun seem brighter and the music sounded better. Sometimes things do work out as you hoped.
---