JULY 20, 2010
Eating
Breakfast
Driving home from a visit to Yellow Springs I knew I'd pass one of my favorite highway breakfast spots, the down-home, kinda tacky but also tasty Waffle House.
Since fried potatoes are a particular weak spot of mine, I usually get their home fries with onion, tomato and cheese. Today I was tempted by the buttermilk waffle instead.
The waffle was OK, but next time I'm going to stick with the tried and true home fries.
Snausages
Never saw this before: one rest area on I-71 in Ohio has a snack-food vending machine for pets. Snausages, anyone?
Beef & latkes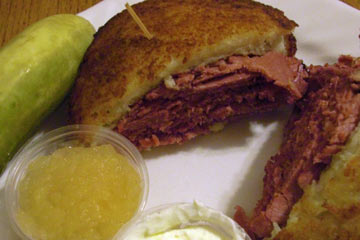 Tonight was the second time in a week that I was on the other side of town for a meeting, literally driving past Corky & Lenny's deli.
Since my refrigerator is bare today, I stopped to get a takeout sandwich: corned beef between two latkes (potato pancakes).
It's served with applesauce, sour cream and a dill pickle. Half of the sandwich was today's supper, the other half will be lunch tomorrow.
If you're going to eat meat, this is the way to do it.
Top | |