SEPTEMBER 15, 2010
Plain or fancy?
I'm' sure you've seen the stickers on the back of cars that are white ovals with black 2-3 letters, like IRL, GB, FJI, etc. The original stickers were used to identify the country in which the car was registered. Above are the official UN codes for Northern Ireland, Great Britain and Fiji.
Ah, but wait. Now these ovals are everywhere. They've become badges of places we've visited (OBX for Outer Banks, KI for Kelleys Island), or even things we like. Cleveland folks recognize the pink and turquoise CHOC sticker (Malley's Chocolates).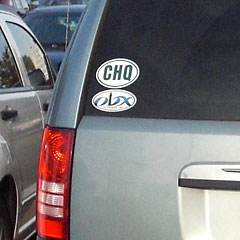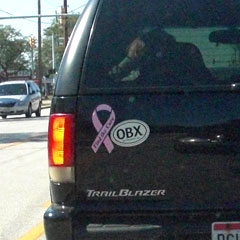 But I'm not fond of the move away from pure and simple black and white letters to more colorful illustrated versions, like the OBX sticker at far right.
Using a lighthouse and "waves" to make the OBX letters strikes me as gilding the lily.