AUGUST 8, 2010
Chili dog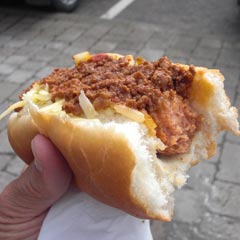 When all else fails, go with the hot dog.
Since returning on Monday from an 8-day vacation in Ireland I've had a tough time getting back in gear. The first couple of days may have been jet lag. I could barely stay up until 10, let alone my usual 12:30 or 1 a.m.
Now it's Sunday. I can't blame jet lag or lack of sleep, but sitting down at the computer to do anything more than check email and see if anyone's posted anything interesting on Facebook has been tough.
I made a first pass at sorting my 100+ photos from the trip. Spent nearly a whole day cropping and color-correcting the "best of", then uploaded them to Snapfish.com and made a 45 -picture book. So I haven't been a total slug. Did a bunch of work in the garden and front yard too.
But still there's a whole lot that I thought I'd comment about the trip. Lots of good pictures that remain unseen. I can't find the energy to do it. not sure why. But as I think back on the time in Ireland, here's one thing that stood out: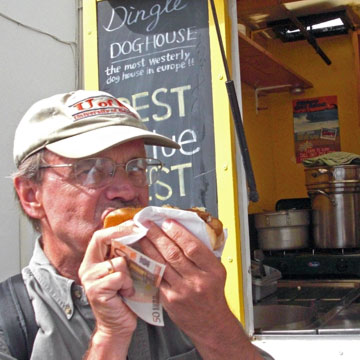 Yep, it's a chili dog, bought at a tiny trailer/stand in Dingle, a small fishing village on the west coast of Ireland.
The Dingle Dog House claims to be "Best in the West," and I have no reason to doubt it. The hot dog itself was juicy and tasty, the bun fluffy and bland (as it should be), and the chili...
Well, the chili was good, but tasted like Mom's chili. Kind of ordinary. My gold standard is the spicy, finely-textured chili that you get on dogs at Old Fashion Hot Dogs on Lorain at West 41st St. It's a Cincinnati-style chili flavored with cinnamon and chocolate, among other spices.
I gently broke this news to the owner of the Dingle Dog House, who'd asked for my honest opinion, good or bad. He took it pretty well, even promising to look up a recipe on the internet and give it a try. Wish I'd have gotten his email address so I could send him this.
So there ya have it: profound observations about my cross-cultural adventure, Sunday night edition. Maybe next week I'll do better.
The search for the perfect chili (or slaw) dog
Disappointing Dog—March 18, 2010
The real deal—December 3, 2009
Deluxe dogs—November 19, 2009
In search of the perfect slaw dog—August 9, 2009
PIcnic + slaw dog—June 11, 2008
Slaw Dog Smackdown—April 23, 2008
Top | |