Back to basics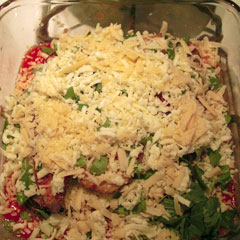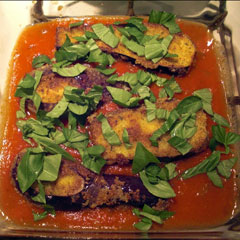 Not sure why I feel so good when I make something like this eggplant parmesan, using eggplant and basil just picked from our backyard garden.
It was delicious, of course, but there's more than that involved.
Last night courtesy of Netflix I got a bit of insight into why making this supper made me feel good. We watched a made-for-TV film called The 1940s House.
It's a "historical reality" show that put a real British family in a house retrofitted to be virtually identical to the way it was during World War II. The family—father, mother and adult daughter with two small boys—for nine weeks dressed, cooked, cleaned and as much as possible lived their lives as they would have in the years 1940-45.
A revelation for me was how hard life in Britain was during the war years. I've heard stories from my own parents about what it was like in the U.S. with rationing, Victory Gardens, and shortages of this and that. In England they had more severe versions of all of the above plus German bombs that killed thousands and destroyed tens of thousands of homes.
Even in the filmed simulation you could see how the stress of constant air raid warnings that made the family run to their backyard bomb shelter wore on the adults in the family. For the kids it may have seemed exciting at times, but I'm sure it was frightening as well.
Afterwards
One of the best parts of the show was the interviews with the family six months after filming ended. The experience had changed them, making them more confident, self-reliant and less interested in commercial products of all sorts. The mom found by checking her financial records that she'd reduced spending on food by 50%. She'd also stopped going to the supermarket, instead shopping daily at her local grocery, butcher, etc.
This is the connection with why making my eggplant parmesan felt so satisfying: I was directly connected with a fundamental human need (food). In this admittedly small instance I didn't need the supermarket for most of the ingredients. It's a good feeling.
Now, if I can figure out how to make decent mozzarella I'll be doing even better.
---
Vacation update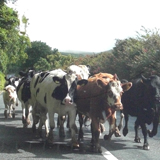 Just added:
Cows On The Road; Cliffs of Moher; Lisdoonvarna
— July 31, 2010