JULY 8, 2010
KJ@KI
A couple weeks ago—wow, how fast that time goes—one of our favorite performers, Kristine Jackson, sang a favorite song at our 40th anniversary party (wow, how fast that time goes)
We first heard KJ when she played trumpet in the Mary Bridget Davies Band. Since then she's started her own group as well as performing solo.
Kristine is a terrific blues singer, guitar player, and really decent person besides. And yes, she still picks up the horn once in a while.
Check her out at the Parkview, Fat Fish Blue or other local venue. More info and schedule at her KJ Blues website.
The whole fam damily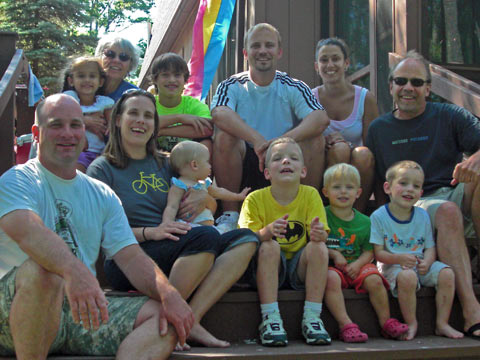 It was great to have all the kids & grandkids together for a couple of days.
Jocelyn, the littlest, had no interest in the commemorative photo, not with all those interesting people around.
Top | |