AUGUST 9, 2010
Was it something I said?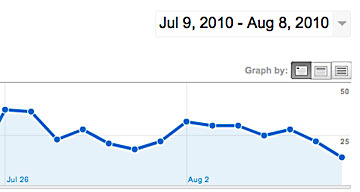 Part of my daily morning ritual is to check Google Analytics to see how many people have visited my website and what they're clicking on.
Not long ago, every day's report showed 10-20% increases in glorious green type. The number of daily visitors nearly reached the magic 2,000 per day. I thought I'd finally turned a corner in building readership.
Recently, though, the numbers are red with a minus sign in front of them. The daily visitors number struggles to hit 1,000. Yikes. How did this happen?
An aside
I'd bet big money that virtually everyone with a blog/website shares my burning desire that one day something I've posted will "go viral." We all lust for that day when so many people click on to our site that they crash our hosting servers. This would be our Oscar, our #1 on the New York Times Bestseller List, our Superbowl victory all rolled into one.
So what that there are millions of people posting bazillions of web pages every day? Why can't ours be the one that everyone emails to all their friends, posts on Facebook and gets mentioned by CNN, Time.com and the local news station?
The reality
Meanwhile, back in the present things are moving in the opposite direction. Not only are the numbers dramatically down since six months ago, they are lower than this month last year. Any idea that I was building readership went out the window.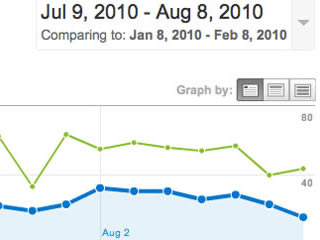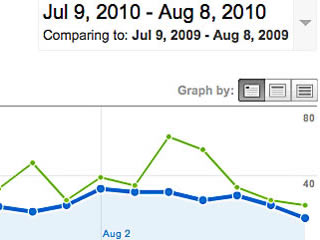 So what?
I'm going to forgo for now the self-doubt about the quality of what I've been posting (that will come later). I'm going to accept the reality that this website isn't for everyone. It's eclectic (some might say random), personal (some might say self-absorbed) and spontaneous (to some, not very thoughtful). For this and a number of other good reasons I'm never going to have a huge following. But still I'd like a few more visitors just like you.
If you've read this far you must be at least moderately interested in what I have to say. There have to be friends/colleagues/associates who have similar interests. You'd be doing me a huge favor if once in a while you'd share something I've posted with a friend or two. To make it easy I've added the "Share" link at the end of the article: click there to send an email or share using any of 200+ social networking websites, or click the Facebook, Twitter, etc. icons to go that route.
And I'm always interested in your comments on any topic. The "Comments/Leave a comment" link at the bottom of each page is your invitation to add your two cents to mine anytime you want. I love to read your thoughts and reactions.