Yard sale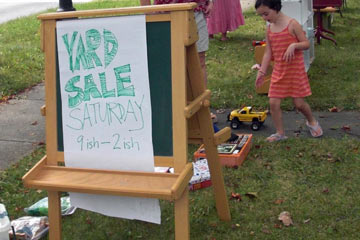 I spent the morning in Hudson, Ohio helping my daughter with her yard sale (rummage sale, tag sale, whatever you call it). It was a whole new world for me.
I remember once or twice helping with neighborhood fund-raisers like this. You had to watch out for the early-arriving vultures who tried to cherry-pick the best stuff at a lot less than the marked price. I'm pretty sure most of those folks resold their purchases at much higher prices.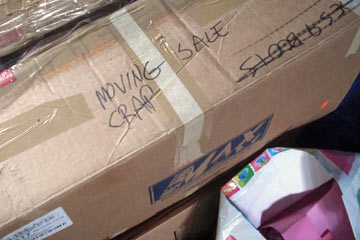 Today I mostly did grunt work, starting with moving boxes of crap—oops, I mean vintage treasures—from the garage.
Later I hung around when Sharon had to go inside to make sandwiches for the kids or put the baby down for a nap. I was worried about having to deal with people trying to pay less than the marked price, but amazingly that didn't happen often.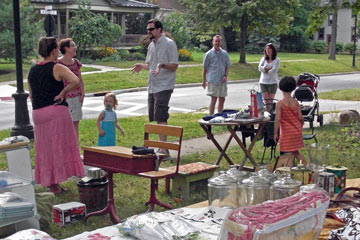 We didn't have a huge number of shoppers but it seemed that everyone walking by stopped to introduce themselves and welcome Sharon and family to the neighborhood.
Hudson seems to be a very friendly town. Joanne and I were there a few weeks ago on a house-scouting trip and were amazed that everyone we passed when we walked downtown smiled and said hello.
Today, a few of these friendly folks even spent some money: by the time we packed things back in boxes at 2 pm we'd made a hundred bucks.
---
Vacation update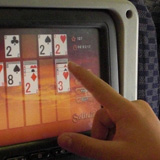 Just added:
Goodbye Dublin; the Flight Home; Hello Cleveland
— August 2, 2010