Usual suspects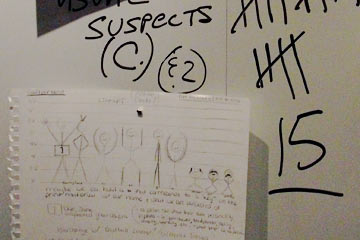 It took a couple weeks of sometimes frustrating discussions, but the Portfolio Preparation class has decided on a "Usual Suspects" / lineup theme for this year's show.
It was encouraging to watch as they met in groups of five to discuss and debate ideas that had been proposed over the last two weeks.
Rich, the photo class instructor, and I explained our concerns that the original suggestion: "Framed: Design so good it's criminal" was clever and memorable, but might get a negative reaction from our audience of photo/design professionals. We challenged them to take what was good about the idea and steer it in a positive direction.
The result was a line-up concept that will allow each student to show themselves in a unique way, but without suggestions of prison, crime, etc. that had Rich and I concerned. The entire combined class of 25 bought into the idea, with the vote for being more than twice that of the second place idea.
I was (am) proud of how they handled the debate and came to a conclusion that was stronger than the original ideas. Stay tuned for updates on the planning process. If you'd like to be on the list for an invitation to the show in May, put your name, mailing address and email address in "Comments" below.
Top of page |