APRIL 24, 2009
Art, food, and tile?
The day started off in a pretty mundane manner. I drove to a ceramic tile distributor, Virginia Tile, hoping to find the perfect tile to use on our kitchen backsplash. The last piece of the color/shape/texture puzzle we've been working out at the renovation continue. You can see in the pictures from a couple of days ago the raw unfinished Durock under the cabinets, waiting for a covering of ceramic tile.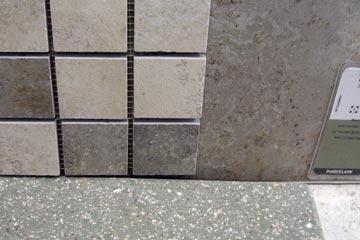 After a half hour or so of looking at samples and talking with the nice lady at the showroom I was walking out with a little bag of tile pieces to take home to show Joanne. Wouldn't you know it, as I looked back before going out the door I saw another sample that could be perfect.
I was already embarrassed, having asked for more samples twice before, so I decided these will have to prove their worth via a picture alone. Too many choices can be as bad as too few.
Art
After sort of dealing with the tile question (final decision pending discussion with Joanne tomorrow), I met my friend Mary for a trip down I-77 to the Akron Art Museum.
We found a free parking space in a closed bank parking lot right across the street from the museum, went inside and got dayglo yellow armbands to prove we'd paid the admission, and walked up the stairs to the galleries.
The exhibition of photos by Edward Weston closes this weekend, so we had to grab this opportunity. Good decision. The show was great, with a wide range of Weston's portraits, landscapes, nudes and still lifes. There were the now-classic nudes and sensuous vegetable images, along with portraits and cityscapes that I'd never seen. And a very beautiful shot of a bedside urinal. Which may have inspired me (see below.)
Alongside the Weston exhibit was another, Lee Friedlander's Factory Valleys, a series of photos commissioned by the Akron Museum in 1979. Earlier in the month we'd visited a different Friedlander exhibit at the Cleveland Museum of Art and I loved it. This one, not so much. The photos of steel mills, bridges and workers in factories in Cleveland, Akron and other cities were good but not as inspired as the ones in the Cleveland show. Maybe because they were commissioned and not done in a more organic way?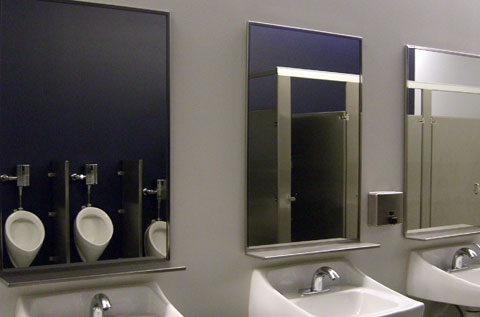 An here's my own take on urinals, these in the Akron museum's first floor men's room. The orderliness and contrast between rectangles and rounded shapes is appealing to me. And it's not just me: check out Urinal.net.
Incidentally, last July I posted other photos and comments about the new addition to the Akron Art Museum. You'll also see a mention of Crave, also discussed below.
Food
After getting enthusiastic recommendations from several of the museum workers we had lunch at nearby Crave restaurant. While last year I was disappointed, this year the food was wonderful. We shared a goat cheese/kalamata/smoked tomato sauce appetizer, a baby greens salad with prickly pear vinaigrette, and a grilled portobello/artichoke/zucchini panini with hot pepper jelly. Wash this down with a couple of microbrews and you've got a darn good lunch. If you're in Akron, definitely give Crave a try. It might even be worth a special trip.
More food
After this wonderful lunch I had an equally delicious supper with Joanne and a group of friends at Sergio's Sarava at Shaker Square. The menu isn't as wildly eclectic as Crave's, having more of a Brazilian focus, but there's plenty of interesting choices.
Here I had the Salada Sao Paulo, strips of fried plantains and pecans with romaine lettuce, red cabbage, cucumbers, and sweet peppers in a spicy ginger-plum vinaigrette. Very nice. Then three small but very yummy Tamale Cakes, plancha grilled cornmeal cakes topped with guacamole, sour cream, tomato carioca relish, and ancho sauce.
I was stuffed and happy. Give either/both these places a try when you want something different from burgers, fries and pasta.
Top | |