MARCH 7, 2009
Hocking Hills, Ohio
The plan was for us to drive down from Cleveland while John & Jean drove up from Dayton. We'd arrive at our rented cabin in Hocking Hills, a scenic part of southern Ohio, around 5 or 6. Good plan. Unfortunately Google Maps, which I used to trust without question, did us wrong. We never could find the last turnoff for the road that led to the cabin, despite driving back and forth over the previous leg several times. We spent about an hour and a half driving around, getting more frustrated as the light faded into darkness.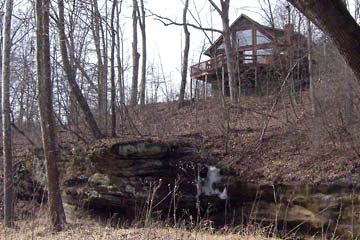 OK, we should have called someone, but I'd neglected to get phone numbers for either our friends or the place we were headed for. So eventually, with the help of some folks who were standing outside their house and more advice from the woman at the gas pumps in front of Kroger's, we arrived. It was close to 8 pm.
After a very abridged version of our journey, I got a glass of wine and headed for the hot tub on the deck of the cottage. Things started to look better immediately, and the rest of the weekend was fine.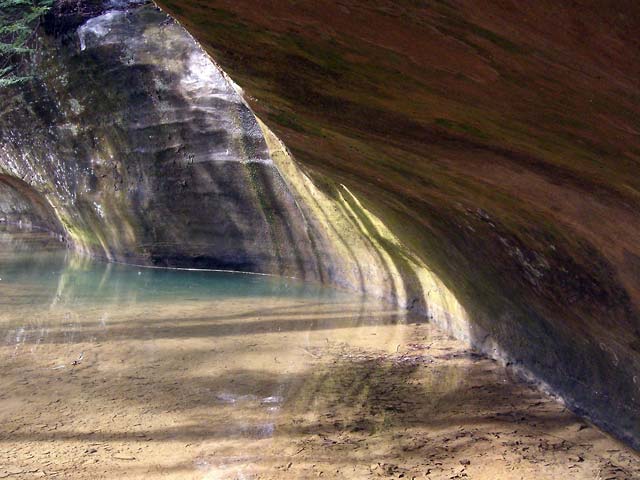 Here you see our Jim Bowie cabin at Crockett's Run. It's a beautiful location even now in the early Spring when the trees are bare and things are mostly brown and gray.
We hiked around the property, which has its own waterfall and pond. I especially liked the curved rock walls overhanging the water, seen here.   (Mouseover to expand —>)
This is about 1/4 mile from the cabin, further along the rock outcropping that you see at the bottom of the hill.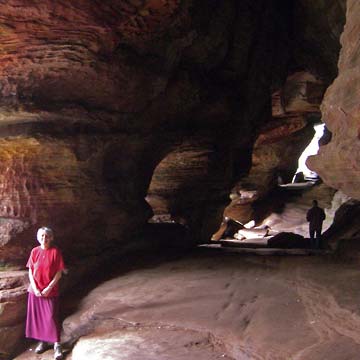 Later in the day we did more serious hiking in the Rock House area of Hocking Hills State Park. While not as grandiose as the parks in the western U.S., these sandstone caverns shaped by eons of water are impressive in their own right.
Here Joanne stands near the entrance to the Rock House itself.
Oh, I almost forgot: it was sunny all day and the temperature hit the upper 70s. Felt like summer in early March.
Top | |